THE LINK BETWEEN HIV, THE VACCINE TRIAL AND EMPOWERMENT

Is the world's first HIV vaccine the answer to the HIV epidemic in Africa? 1 Are we on the brink of stopping the occurrence of HIV on a global scale? 2 As an organisation working to prevent HIV through education and empowerment, Leave No Girl Behind supports any safe and scientifically sound measure to prevent HIV. But here is the real question: will the vaccine serve merely as a band-aid to cover up a much deeper issue in South Africa? 3
I live in Northern Kwazulu-Natal, the area in South Africa with the highest new HIV infection rate of the nine provinces, and the highest overall prevalence of infection in South Africa.4 If we can find and supply a solution to HIV here in South Africa where the problem is at its worst, then this model can be used with success in other areas.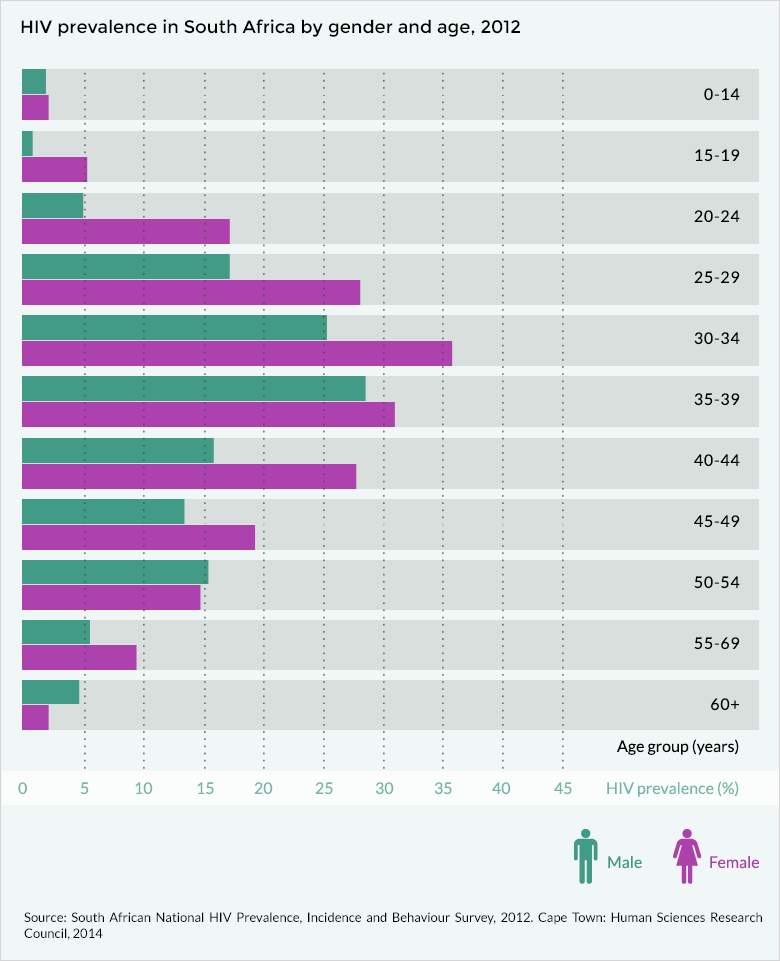 According to the graph above, approximately 2.5 times as many adolescent girls in sub-Saharan Africa were newly infected with HIV than boys in the same age group (15 to 24 years).5 Thandi's story helps to explain the statistics:
Thandi is a fourteen year old young woman who is sexually active. Thandi's mother has just become aware of the situation, and not knowing how to cope, she immediately takes her to the local clinic for birth control tablets. As a mother, she tells herself that the world has changed and that teenage sex is the norm. She is accepting of the fact that Thandi's boyfriend is seventeen years old, since age-disparate sex is a regular occurrence in South Africa too. 6
When Thandi's boyfriend refuses to wear a condom, Thandi feels compelled to object on the grounds that she will not subject herself to the risks of being infected with HIV or becoming pregnant. Her boyfriend reassures her that he has been faithful to her and that her show of faith in him (by not insisting he wear a condom) is essential for their relationship to flourish. Thandi has lost the negotiation and feels pressurised to give in. 7 It is not only her young age which has contributed to influencing her lack of negotiation skills – she is the product of a patriarchal culture where women's rights, even in sexual decision-making, are secondary.8

While the HIV vaccine may prove useful for young women such as Thandi, the vaccine cannot deal with the complexities that cause her to choose as she does. It is the challenges below that need to be addressed – the only permanent solution is education and empowerment:
1. Limited access to education and resources
The limited access to secondary and tertiary education among adolescent girls and young women contributes to increased HIV incidence risk, while school attendance and educational attainment have been shown to be associated with lower HIV risk and reduced sexual risk behaviour.9,10 While sex education is taught in South African schools, it may be taught in a way that students cannot relate to, so that the topic is poorly understood and students may be left with unanswered questions that they feel too intimidated to ask about in a classroom setting. In Thandi's case, there is no adult that she feels comfortable to speak to about her situation; there is no one to mentor or guide her. LNGB Power Circles provides a safe space for adolescents to express themselves freely and without judgment, no matter what topic is being discussed.
2. Transactional sexual relationships
Transactional sexual relationships have a significant impact on the spread of HIV. These relationships are non-marital, non-commercial, and based on an assumption that sex will be exchanged for material support or other benefits.11 Again, it is the "why" that must be addressed together with how to prevent HIV. When women are financially empowered, they will have no need to pursue sex for material gain.
3. Multiple partnerships among sex workers
Should the vaccine trial prove to be successful, it will provide a solution for the most affected group – female sex workers.12,13 Young female sex workers under twenty-five are particularly affected.14Again, the vaccine is only part of the solution to a complex problem. There is much stigma and discrimination surrounding sex workers in South Africa, and they are restricted by the laws under which they have to work. Many sex workers also inject drugs, making them more susceptible to HIV infection.15
Amidst this situation, educational organisations have reported difficulties in delivering HIV prevention services to sex workers because of ongoing police harassment. One study found that up to 70% of women who sold sex had experienced abuse by the authorities.16
4. Gender based violence
Over 30% of women who reported first sex before the age of fifteen years described that sexual experience as being forced.17 This has contributed to the prevalence of HIV in girls. According to the Optimus Study, 784,967 young people of all genders in South Africa have likely been victims of sexual abuse by age seventeen – the number of people that could fill the Soccer City Stadium in Johannesburg eight times. 18 The reason for this needs to be examined.
5. The stigma surrounding HIV
HIV sufferers often keep their positive HIV status secret and sometimes only their immediate family is aware of it. While this is their right, when they do not disclose their status to their sexual partners, they violate their partners' human rights. Many individuals with symptoms that may be HIV related never go for testing because of the stigma, and they unknowingly spread the virus. When we teach adolescents the Leave No Girl Behind principle of equality, they are taught the meaning of equality – "recognising that the same worthiness that is in you is in all other beings too", and this means no discrimination against any human being. It is this thinking, together with HIV education, that is necessary to break the stigma of discrimination against those individuals who are HIV positive.

What then is the most effective solution? While South Africa has the largest antiretroviral treatment program globally and the country now invests more than $1 billion annually to run its HIV and AIDS programs, the HIV statistics remain high. 19 Putting a bandage on the wound has not healed it – it is time to disinfect, clean and treat it. It is the source of the problem that must be considered. Education and empowerment is the only effective measure that will create lasting change.
The prevalence of HIV in young women affects the HIV prevalence in all groups – no one group can be looked at in isolation. Therefore, the solution of decreasing the HIV prevalence in girls is, put another way, the decrease of HIV in South Africa as a whole. What affects one gender affects all genders.
Going about changing entrenched cultural norms that are damaging to all genders and teaching gender equality is not an easy undertaking. The change has to come from within such culture to be accepted. While there are programs purposefully doing this, we need to create a ripple effect for ideas, beliefs and their consequent actions to evolve from one generation to the next.
Eliminating the need for transactional sex through more access to secondary and tertiary education for girls is key. I believe that here too, we cannot consider girls in a vacuum. To find a solution to provide more access to education for girls, we again have to look at the reason for the lack of access. Boys and men are part of the solution. Educating and empowering all genders will lead to a decrease in gender based violence, transactional sex and even age-disparate sex – this is a long-term solution, but it is the only solution.
Giving sex workers more protection in the eyes of the law and perhaps even legalising sex work (there are pros and cons to this), will result in sex workers being able to insist on using condoms in their work, as well as a decrease in the abuse of sex workers by authorities. This will decrease HIV statistics in this industry. The other aspect is to examine why young women go into the sex industry. The issues are complex, but education and empowerment will help these young women to develop skills and become employable in other fields. They will have the opportunity to exercise their power of choice.
Education and empowerment should begin at school level with interactive and candid discussions. It is not about providing a curriculum in school or distributing information to students, but about creating a safe environment that fosters discussion, questions and participation from students. This has to be done on an ongoing basis. It is not only the subject of sex or HIV that should be the topic of discussion, but the focus should be on students finding their individuality, embracing their voices, exploring their unique skills and finding purpose.
A student who is in an LNGBI Power Circle is taught to do this. That student will not only be empowered, but will empower other students. In the years to come when these students go out into the adult world, they will have more choices just by virtue of their education.
While a safe vaccine might be an important part of the solution to HIV, the bottom line is always empowerment. To decrease the prevalence of HIV in adolescent girls, and to decrease the prevalence of HIV in South Africa, and on a global scale, empowerment programs need to be widespread, bold, and effective. To change the future, it is necessary to begin with the present.
1 http://data.unicef.org/hiv-aids/global-trends.html#sthash.JhH38rM2.KJoBqf1a.dpuf
2 http://www.health24.com/Medical/HIV-AIDS/News/landmark-hiv-vaccine-trial-launched-in-sa-20161130
3 UNAIDS Gap report 2016
4 South African National AIDS Council (SANAC) and National Department of Health (DoH) (2012) 'Global AIDS Response Progress Report: Republic of South Africa'
5 http://data.unicef.org/hiv-aids/global-trends.html#sthash.JhH38rM2.KJoBqf1a.dpuf
6 Soul City Institute. Multiple and concurrent sexual partnerships in southern Africa. A ten country research report. Johannesburg: Soul City Institute; 2011
7 Shannon K, Leiter K, Phaladze N et al. Gender inequity norms are associated with increased male-perpetrated rape and sexual risks for HIV infection in Botswana and Swaziland. In: Kissinger P, editor. PLoS ONE. 2012;7(1):e28739. doi:10.1371/journal.pone.0028739.
8 Ramjee G, Daniels B. Women and HIV in sub-Saharan Africa. AIDS Research and Therapy. 2013;10:30. doi:10.1186/1742-6405-10-30
9 De Neve JW, Fink G, Subramanian SV, Moyo S, Bor J. Length of secondary schooling and risk of HIV infection in Botswana: evidence from a natural experiment. Lancet Glob Health. 2015 Aug;3(8):e470–7. doi: 10.1016/S2214-109X(15)00087-X.
10 Hargreaves JR, Bonell CP, Boler T et al. Systematic review exploring time trends in the association between educational attainment and risk of HIV infection in sub-Saharan Africa. AIDS. 2008 Jan 30;22(3):403–14. doi: 10.1097/QAD.0b013e3282f2aac3.
11 Stoebenau K, Wamoyi J, Holmes A et al. The role of transactional sex in adolescent girls' and young women's risk of HIV in sub-Saharan Africa. London; 2016 (forthcoming).
12 UCSF, Anova Health Institute & WRHI (2015), South African Health Monitoring Study (SAHMS), Final Report: The Integrated Biological and Behavioural Survey among Female Sex Workers, South Africa 2013-2014
13 Human Sciences Research Council (HSRC) (2014), South African National HIV Prevalence, Incidence and Behaviour Survey 2012
14 Human Sciences Research Council (HSRC) (2014), South African National HIV Prevalence, Incidence and Behaviour Survey 2012
15 South African National AIDS Council (SANAC) (2013), Estimating the size of the sex worker population in South Africa, 2013
16 Women's Legal Centre (2012), A Report On Human Rights Violations By Police Against Sex Workers In South Africa
17 Multi-country study on women's health and domestic violence against women: summary report of initial results on prevalence, health outcomes and women's responses. Geneva: WHO; 2005 (http://www.who.int/gender/violence/who_multicountry_study/ summary)
18 The "Optimus Study: Sexual victimisation of children in South Africa" was commissioned by the UBS Optimus Foundation and conducted by researchers from the University of Cape Town and the Centre for Justice and Crime Prevention, 1 June, 2016: The first-ever nationally representative study of child maltreatment in South Africa.
19 Maurice, J. (2014) 'South Africa's battle against HIV/AIDS gains momentum' The Lancet 383(9928):1535-1536